CHRC's periodical collection, which includes over 600 titles, is comprised mainly of scholarly journals and magazines with a theological, historical, and/or local focus. These journals were collected by the American Catholic Historical Society of Philadelphia which was founded in 1886 to collect material documenting the history of Catholicism in the United States.
In addition to the high volume of printed information dealing with American Catholic life there are a number of popular serials, magazines, newsletters, bulletins, circulars, and other printed materials represented in this collection. One example is Woman's Progress in literature, science, art, education, and politics which was a magazine edited by the Catholic intellectual and suffragist Jane Campbell. Jane's sister, Marianne Campbell, founded the magazine in 1893. PAHRC has several issues.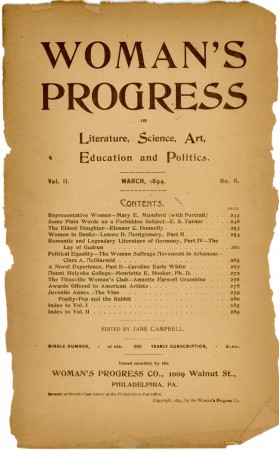 For a complete inventory of the periodical collection, search our online catalog.